Find the Perfect LASIK Surgeon for Crystal-Clear Vision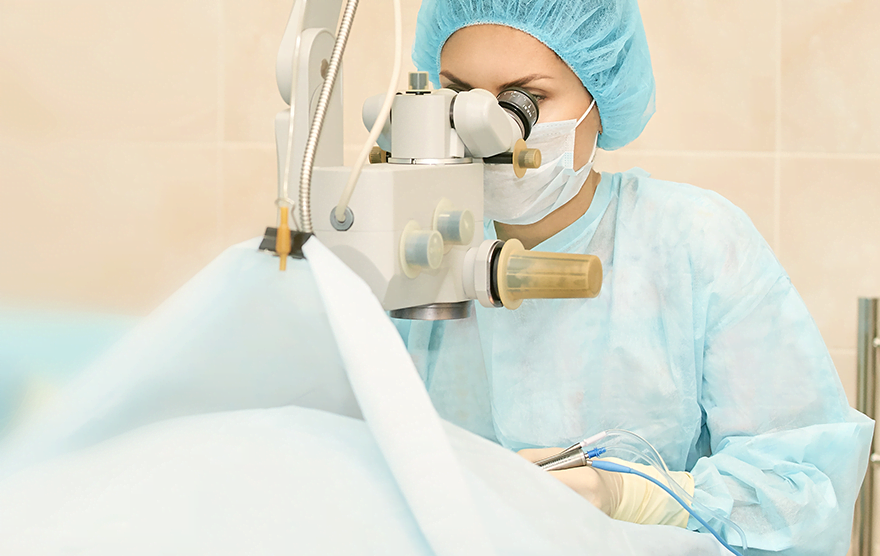 Finally, deciding to get LASIK is already a massive task, but what comes after is even more challenging. You've decided to get refractive surgery and live a limitless, specs-free life. Now, which LASIK surgeon do you choose?
You might keep Googling for hours or ask around everyone and anyone you know for good recommendations and still be in two minds for days upon days. So, to save you the trouble and the hassles, we've written down specific tips to help you find the ideal LASIK surgeon in Delhi.
Let's go through them in detail!
End-to-end expertise
The eye surgeon's role is not limited to the refractive procedure. It starts with your first meeting and goes on till days/weeks after the surgery, at least until your doctor decides you don't have to visit anymore.
A crucial point is whether the surgeon advises a pre-LASIK assessment. Finding out whether you're eligible for the procedure or not is vital. If you are deemed suitable without the eye evaluation, the surety of the results might be hampered.
So, to choose the best doctor for LASIK surgery, go for the one who offers comprehensive pre-, during, and post-operative care.
Experience
Like everything else in life, experience matters a lot when it comes to performing LASIK surgeries. Look for doctors who have been experts at refractive procedures for a long time.
Look for surgeons with at least a decade of experience and a few thousand surgeries on their CV. Where they have studied and done their specialisation should also be a defining factor in choosing the right eye doctor.
Certifications
Eyes are very sensitive, and you should only choose the surgeon you trust. When you read about an ophthalmologist, do check their certifications. They should have completed a LASIK Fellowship Training and a Cornea Fellowship.
This shows that they are highly specialised and would use their expertise to give you the best results. Your doctor should also be comfortable using modern technology to perform refractive surgeries.
If they have published any scientific papers, given lectures or published in journals, it's like icing on the cake!
Reviews/Recommendations
You should check out your doctor's rating on online platforms. Read reviews of people, and you'll get a fairer idea of what to expect. But don't entirely rely on them!
Another option is trusting word of mouth. Ask for recommendations in your social circle, and you'll surely get a few good ones. Here, the benefit is that you can personally ask all your queries to someone who has got LASIK done.
Cost
A lot of people have an apprehension that LASIK is expensive. Even though it is a myth, some centres charge a lot.
Decide on a budget, and stick to that without compromising on quality.
Let us help you find the best LASIK surgeon in Delhi to ensure crystal-clear vision without any hassles.
At Planet LASIK, you will find:
Doctors who are rich in experience
We have 150+ doctors with decades-long combined experience. Our experts have conducted thousands of successful LASIK surgeries and won numerous prestigious awards nationally and internationally.
The ophthalmologists have also published several papers and pioneered surgeries like bladeless LASIK in India, making them the ideal choice to get LASIK surgery in Delhi.
The latest technology and adherence to protocols
We have advanced equipment not just to conduct refractive surgeries but also to evaluate your eyes and check your eligibility thoroughly.
At every step of the way, you will find innovations from all over the world to give you the best possible experience.
People's trust
Our customers include people from all walks of life with different expectations. From Bollywood actors to aspiring professionals, we've ensured everyone leads a life without limits.
Please browse through the happy stories on our websites to see them for yourself!
Ideal pricing
We offer competitive pricing to ensure you get the desired results while sticking to your budget. To get the ideal LASIK surgery cost in Delhi, explore our pricing plans and see what suits you best.
So, do remember these points before you begin your hunt for the best LASIK surgeon in Delhi. To learn more about the ophthalmologists at Planet LASIK, visit our website. Find the right doctor, and unlock a specs-free life!